French Inspired Apartment Bedding
French inspired apartment bedding to simply transform your private sanctuary. Welcoming colors and fabrics to pamper you. Go to: Duvet Bedding, Makers Collective, Lacoste Home

| | | |
| --- | --- | --- |
| | | |
| Woven Ellison Duvet Cover, Shams | Iman Organic Cotton Duvet Cover | Clipped Jacquard Duvet Cover, Shams |
| Carefully woven from cotton, this soothing collection is perfect for lounging, daydreaming, and rejuvenating nights of sleep. | Bordered blooms abound in this comforting collection, introducing the fresh breeze of spring into your bedroom. Best of all? It's printed on soft, breathable organic cotton for an indulgently cozy feel. | This cotton bedding collection features clipped jacquard for a subtle, textured touch that lends itself for layering with throw blankets and pillows to create a cozy respite. |
| | |
| --- | --- |
| | |
| Sora Organic Sateen Duvet Cover, Shams | Holly Organic Cotton Duvet Cover, Shams |
| Get the beauty sleep you deserve in this bedding collection that features oversized, blooming florals printed on oh-so-luxurious cotton sateen. | Vibrant blooms and verdant greens abound in this eye-catching collection that introduces the freshness of springtime into your bedroom. Best of all? It's printed on soft, breathable organic cotton sateen for an indulgent, silky feel. |
| | | |
| --- | --- | --- |
| | | |
| Briony Duvet Cover, Shams | Relaxed Cotton-Linen Duvet Cover, Shams | Woven Demetria Duvet Cover, Shams |
| Delightful florals and their shadows lend this bedding such depth, you can almost smell the fresh blossoms. | At once durable and elegant, linen embodies a textural richness that's simply unparalleled, which is why it's a bedding must-have. This oh-so-soft collection features one subtly striped side for reversible versatility or a peek of print. | Transform your bed into a relaxing oasis with this woven collection that offers pared-back beauty in a scheme of soothing pastel stripes. |
| | | |
| --- | --- | --- |
| | | |
| Embroidered Ismelda Duvet Cover, Sham Set | Woven Etta Duvet Cover, Shams | Luxe Linen Blend Duvet Cover, Shams |
| Beautifully embroidered with globally inspired motifs, this cotton collection brings an artisanal touch to your bedroom. | The ease and relaxation of this woven cotton collection is unparalleled. With unexpected texture from its fringe embellishments and structured seams, it brings artisanal style to any bedroom. Natural | Featuring a luxurious blend of linen and viscose, this bedding collection is unparalleled in its silky touch and beautiful drape. Raw-edge trim and a soothing palette lend it a crafted feeling, while its textural richness delivers refinement and the potential to turn any bedroom into a sleep sanctuary. |
| | | |
| --- | --- | --- |
| | | |
| Harmony Hemp Duvet Cover | Bunglo Rose Fields Duvet | Embroidered Daisia Duvet Cover, Shams |
| Crafted from hemp - one of nature's most durable and lost-lasting fibers - the Harmony collection is a sustainable and hypoallergenic choice for your home. Not only is hemp grown without pesticides or insecticides, but it requires just one third of the land, water, and fertilizer needed to cultivate cotton. Better yet? Its naturally moisture-wicking properties keep you feeling comfortable while you sleep, making it an eco-friendly option that's gentle on the Earth and you. | This luxurious duvet features romantic pinks and vivid blues in a painterly floral watercolor print. | Delicate and dreamy, this so-soft cotton collection will lull you to sleep with its soothing look and feel. |
| | | |
| --- | --- | --- |
| | | |
| Reversible Airy Gauze Duvet Cover, Sham Set | Miriam Organic Cotton Duvet Cover, Shams | Organic Cotton Angela Duvet Cover, Shams |
| Crafted from lightweight and breathable cotton gauze, this oh so soft collection features a reversible design that can be changed throughout the season - or daily. Its delicate open weave provides a cozy marled look, while its flip side offers solid color for a bold effect. | Pairing the look of well-loved vintage quilts with the crisp feel of organic cotton percale, this collection offers cozy comfort and plenty of eclectic flair. | Bring a dash of darling to your bedroom with this floral-printed collection - with a reverse percale side, it offers a indulgently cozy feel. |
Moderna Linen Bedding Collection
Agnes Percale Duvet Cover, Shams
Printed Elsie Percale Quilt, Shams
Woven Batia Duvet Cover, Shams
Prized for its durability, breathability, and softness, linen offers a textural richness that's simply unparalleled. A sustainable option for your home, this collection is crafted from European flax, a natural grain that requires no additional chemicals or irrigation other than natural rainwater to cultivate. Best of all? It's thermo regulating, so it's a great choice for year-round use, and its fibers will soften with wash and wear so it can be cherished for years to come.
Printed on organic cotton, this bedding features a meadow of apricot-hued flowers, lending an abundance of charm and warmth to any bedroom.
Featuring a versatile floral motif and thoughtfully embroidered details, this woven cotton-linen collection offers an artful touch to your bedroom.
| | | |
| --- | --- | --- |
| | | |
| Joey Washed Percale Duvet Cover, Shams | Mahina Duvet Cover, Shams | Alterra Pure Organic Percale Duvet Cover, Pillow Cases, Sheet Set |
| Versatile and timeless, this oh-so-soft collection is made with garment-washed cotton and delicate zig-zag stitching. | This vibrant bedding collection brings drama to any bed. | Founded by a team that brings together more than twenty years in the textile industry, Alterra Pure creates organic, ultra-soft sheets, pillows, and duvets that transform bedrooms into sanctuaries. Each collection is born out of eco-conscious processes and awareness of planet impact, proving that sustainability is a key ingredient to a good night's sleep. |
| | | |
| --- | --- | --- |
| | | |
| Tranquility Linen Blend Duvet Cover, Shams | Textured Chevron Duvet Cover | Matelassé Liora Duvet Cover, Shams |
| Crafted from a blend of linen and sustainably sourced bamboo wood pulp, this lightweight and breathable bedding gets even softer with time - while crochet trim and a garment-washed finish lend it a sweet, vintage-inspired touch. | There's nothing quite like a duvet that combines textural details with neutral hues, which is why we're covering our beds with this cozy layer. It's gently manipulated to create a sophisticated chevron motif that's striking in both traditional and modern settings. | Details of fringe, crochet and crinkled cotton give this bedroom neutral an inviting texture. |
| | | |
| --- | --- | --- |
| | | |
| Organic Spa Sateen Duvet Cover, Shams | Darby Duvet Cover, Shams | Embroidered Cantrelle Duvet Cover, Shams |
| Hallmarked by a lustrous sheen and a smooth-to-touch feel, this organic cotton sateen collection is finished with a classic ladder-lace trim for a design that transforms any bedroom into a sleep sanctuary. | Featuring an opulent flora and fauna scene, this cotton collection lends extraordinary artistry to any bedroom. | Embellished with flourishes of embroidery, this collection adds a graceful touch to any bedroom. |
| | | |
| --- | --- | --- |
| | | |
| Kahelo 3-Piece Quilt Set | Provencal Poppies 3-Piece Quilt Set | Foraged Flora 3-Piece Quilt Set |
| Inspired by encaustic tile motifs, the Kahelo quilt set is a texture and pattern wonderland. It adds an earthy sensibility to a bedroom and is the perfect piece to layer in with other neutral tones. | This quilt was inspired by a trip to the French Provençal countryside during spring. The green fields and wild poppies were the perfect combination for a fun and romantic bedding design, but not without throwing in a few unexpected elements (think escargot and wiggly snakes) and voila. | Inspired by gathering flowers in the wild, the foraged flora cotton quilt will wrap you up in the warmth of spring. Let the refined color palette and sophistication bring a calmness to your home. |
| | | |
| --- | --- | --- |
| | | |
| Block Stripe 3-Piece Quilt Set | Floret Field 3-Piece Quilt Set | Prosperity 3-Piece Quilt Set |
| Sections of navy and white stripes uniquely pieced in alternate directions create a dramatic visual effect. Shams are in solid navy accented with white piping to compliment the quilt. Add this ultimate statement piece to your bedroom to create that modern vibe. | Bold and delicate, the floret field cotton quilt was inspired by spending an afternoon in a field of wildflowers. Bring sophistication and warmth to your home with its rich and luxurious colors. | Inspired by a fragment of a vintage beaded textile, the prosperity quilt will add a well-traveled look to your room. Modern but never boring, this quilt goes with everything but also adds a fun, graphic statement to the bedroom. |
| | | |
| --- | --- | --- |
| | | |
| Diamond Patchwork 3-Piece Quilt Set | Mayflower 3-Piece Quilt Set | Justina Blakeney by Makers Collective Hypnotic 3-Piece Quilt Set |
| This pieced quilt makes a big statement with large blocks of color in a geometric pattern. Alternating sections of blue, pink, gold and navy mix with white to create a bold look. A new spin on a traditional pieced quilt is the perfect modern element for your bedroom. | Mayflower is an ode to springtime, when new life begins to pop up underfoot and the landscape becomes more colorful, playful and lush. Designed to be a celebration of color, nature and form, I hope this quilt introduces an extra dollop of richness, comfort and beauty into your morning and night. | The Hypnotic quilt set was inspired by a vintage African textile Justina spotted at a market in Paris. The geometric Greek key-like pattern makes this quilt feel classic and perfect for layering to complete the global-modern look. |
| | | |
| --- | --- | --- |
| | | |
| Bari J by Makers Collective Botanist 3-Piece Quilt Set | Quinn Stripe 3-Piece Quilt Set | Cosmos 3-Piece Quilt Set |
| Originally painted in watercolors, the botanist quilt design by Bari J. takes it's inspiration from lush botanical gardens filled with flowers. This mix of color and pattern brings a sophisticated yet whimsical look to any room. | The Quinn quilt set features a cross-hatch pattern with a global spin, a rhythmic pattern inspired by the ocean, Quinn brings a quirky modern sensibility to the bedroom. | The motif of this design includes symbols that represent protection against the evil eye. It's meant to help make the bed, not just a place to sleep, but a place to dream. Layer with colorful throw pillow to complete the modern global vibe. |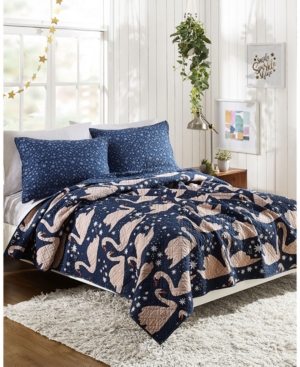 Swanning Around 3-Piece Full/Queen Quilt Set
Nothing says soothing like a swan drifting in a night sky. Our swan quilt was inspired by the ethereal creature that graces it and designed in our favourite Frenchie palette. It's the quickest and most stylish way to slip into dreamland.
Sierra Collection Duvet Sets
Sierra Collection Comforter Sets
Cross Court Reversible Comforter Set
Anglet Full/Queen Duvet Set
Anglet King Comforter Set B
The Sierra collection features a stripe pattern which makes it the perfect choice for upgrading your bedroom's decor.
Bring iconic Lacoste style to the bedroom with the uniquely modern Cross Court Collection. Inspired by Lacoste's tennis legacy, this reversible set is made from 100% cotton and features a bold and sporty grid pattern in a series of signature Lacoste colors on either side.
Sleek vertical stripes in signature Lacoste colors race down the reversible Anglet Collection from Lacoste. Set in a bold palette of iconic Lacoste colors, this 100% cotton set features alternating broad and fine stripes on the face and reverses to an allover design of fine stripes.
| | |
| --- | --- |
| | |
| Meribel Bedding Collection | Cliff Collection Comforter Sets |
| Add a touch of modern to your décor. The Meribel Collection from Lacoste combines subtle muted shades of grey with a stylish colorblock striped design. A tasteful choice for those with a modern aesthetic, this 100% cotton set is not only attractive, but soft to the touch and ideal for any season. | The Cliff collection features a color block pattern which makes it the perfect choice for upgrading your bedroom's decor. |
| | | |
| --- | --- | --- |
| | | |
| Malibu Reversible Bedding Collection | Backspin Bedding Collection | Baseline Bedding Collection |
| Brighten up your bedroom décor with the Malibu Collection from Lacoste. The eggshell white background with seersucker stripe accents is complemented by soft stripes in shades of blue for a relaxed and pristine look. | Add signature Lacoste style to your bedroom with a fresh, fun take on the iconic plaid design with the Backspin Bedding Collection from Lacoste. Fresh colors in an oversize scale are printed on crisp 100% cotton percale. Two unique shams in engineered prints complete the look. Reversible. | An eye-catching approach to plaid, the Baseline Bedding Collection from Lacoste reimagines a beloved favorite. 100% cotton yarn-dyed mélange yarns create subtle shades of color, creating a look that's timeless and unique. Reversible. |
| | | |
| --- | --- | --- |
| | | |
| Milady Bedding Collection | Guethary Bedding Collection | Pensway Collection |
| Reimagine your bedroom with the classic texture and pattern of the Lacoste Milady Red Bedding Collection. A printed ottoman rib instantly refreshes the iconic look of this cotton bedding, which reverses to a classic red-and-grey stripe. Corded piping frames the bedding for signature style, whichever side you choose. | Add a modern, textured element to your bedroom with crisp, contemporary geometric shapes or keep it classic with simple diagonal stripes of this cotton slub bedding. The reversible Guethary White Bedding Collection from Lacoste offers the signature look you love with the effortless ability to refresh. | A palette of navy and green meets the everyday, timeless appeal of white in the Lacoste Pensway Collection. This yarn-dye stripe strikes an effortless versatile look that's crisp and refreshing to any bedroom. |
| | |
| --- | --- |
| | |
| Sideline Dobby Stripe Bedding Collection | Smash Bedding Collection |
| Give your bedroom a crisp contemporary look and feel with the stylish dobby stripes and refreshing tones of this Sideline bedding collection from Lacoste Home. | Crisp stripes create a fresh and fun focal point into the Smash Bedding Collection, the unexpected twist on a classic look a hallmark of the iconic Lacoste apparel. Large engineered yarn-dyed stripes reverse to smaller stripes; the play on scale and pattern adding to the effortless versatility. |
Go to:
Add French-Luxury to your favorites