Contemporary Dressing from Casual to Glam
Contemporary dressing from casual tees to body conscious after-hours glamour with an independent spirit and French sense of style. Go to: The Good Friends, Sundry, Flat White, Heartfelt by Anthropologie, Sweaters

Callahan
LA-based Callahan's cozy knits are effortlessly chic. From oversized pullovers to simple-yet-head-turning dresses, their unique use of texture and material evidences a laidback approach to fashion as timeless - and Californian - as the silhouettes they create.
| | | |
| --- | --- | --- |
| | | |
| Joni Wide-Leg Sweater Set | Alicia Sweater Skirt Set | Billie Sweater Set |
| Comfy and chic, this wide-leg lounge set is our top pick for errand-running, movie marathons, and more. | From hangouts at home to romantic evenings with a loved one, this sweetly stitched set will keep you effortlessly cozy and chic. | Whether you're lounging on the couch or dressing up for date night, this sweater set promises plenty of opportunities for style. Pair it with sneakers for a ready-for-anything ensemble, or elevate the look with your favorite wedges or heels. |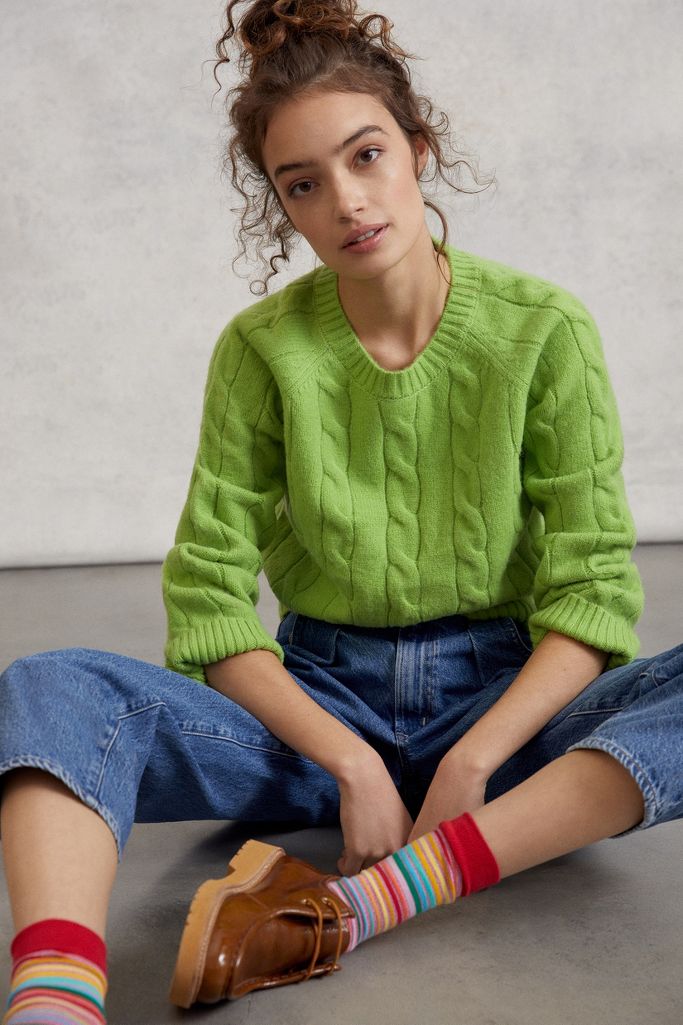 Betsy Cable-Knit Sweater
Offered here in a few of our favorite shades, this extra-cozy sweater brings your cool-weather closet a dash of dimension and flair
Founded by industry veterans with a refined feminine aesthetic, The Good Friends designs sleek, sophisticated garments you'll want to wear on repeat.
| | |
| --- | --- |
| | |
| Trixie V-Neck Sweater | Davie Sweater |
| 50% wool, 50% acrylic | Inspired by the timeless Fair Isle motif, this sweater ensures you'll stay snug and stylish throughout the cooler months. |
Putting a chic French twist on West Coast style, Sundry represents a refined take on getaway-inspired weekend wear. Designed by Provence-born Matthieu Leblan and crafted in California, each "Almost French" piece is an instant, iconic classic.
| | | |
| --- | --- | --- |
| | | |
| Sundry Leah Tie-Dye Mini Dress | Sundry Classic Joggers | Sundry Classic Pullover |
| Cotton, spandex | Offered in an assortment of our favorite seasonal hues, these comfy joggers are the last word in laidback chic. | For a cozy-chic twist on everyday style, look no further than this laidback layer, offered in an assortment of our favorite hues. Best of all? It makes a fabulous gift for friends and loved ones - and for yourself, too. |
Because we know that even the simplest gestures can create the most heartfelt moments, we curated this specialized capsule of only-at-Anthro gifts that are wrapped and ready to show her how much you care. Each delightful surprise is complete with a thoughtful message or tag for that personalized touch - whether it's to say "I'??m thinking of you" or to send hugs and kisses from afar - and each is guaranteed to touch the heart and lift the spirit of someone you love.
| | | |
| --- | --- | --- |
| | | |
| Hollie Eyelet Cardigan | Krisha Cardigan | Rashida Sweater Tank |
| Cotton, elastane | This cozy, eye-catching layer invites a burst of color to your seasonal wardrobe. Featuring an open-weave detail along the sleeves, it puts a vibrant twist on easygoing joggers or skinny jeans. | Offered in a few of our favorite hues, this knit tank makes a lovely match for slim jeans and breezy bias skirts. |
| | | |
| --- | --- | --- |
| | | |
| Navya Cardigan | Dinah Collared Sweater | Davina Sweater Set |
| With faux pearl buttons for a polished twist, this cardigan makes a lovely topper for your favorite spring-ready dresses. | With a ruffled collar lending a retro-chic twist, this sweater makes a lovely match for pencil skirts and go-to slim jeans. | Stylish and sweet, this matching tank and shrug set is proof the best things come in twos. |
| | | |
| --- | --- | --- |
| | | |
| Diya Sweater Vest | Tahani Crochet Cardigan | Kendall Boat-Neck Sweater |
| Whether styled solo or layered over your favorite buttondown, this so-soft sweater vest brings polish and poise to everyday looks. | With an intricately crocheted back panel, this light-as-air cardigan is a perfect match for your breeziest dresses. | With a boat neck and roomy dolman sleeves, this extra-cozy sweater is sure to be an outfitting staple: Tuck it into a flowy skirt for a look of laidback polish, or pair it with your favorite lounge pants and curl up fireside with your favorite book. Either way, it's sure to keep you snug throughout the season. |
| | | |
| --- | --- | --- |
| | | |
| Carlita Tunic Sweater | Hearts Pointelle Sweater | Maryanne Tunic Sweater |
| With a high-low hem and an irresistibly soft finish, this light-as-air layer offers endless opportunities for style: Throw it on over skinny jeans and sneakers for sunny day strolls through the park, or pair it with laidback loungewear for a comfy on-the-go ensemble. | Dainty pointelle hearts adorn this cozy sweater, bringing a dash of romance to your seasonal wardrobe. | With a high-low hem and an extra-cozy knit finish, this tunic sweater offers endless opportunities for style: Throw it on over printed skinny jeans and ankle boots for a look that keeps you snug through colder days, or pair it with laidback loungewear and curl up fireside with your favorite book. |
| | | |
| --- | --- | --- |
| | | |
| Ronita Sweater Tee | Danette Polka Dot Sweater | Donna Pointelle Cardigan |
| This flowy layer makes a lovely transitional piece as the weather warms - pair it with trousers and sandals for a charming everyday look. | Sweetly embellished with playful polka dots, this sweater brings a touch of texture and cheer to your day. | Here, delicate pointelle stitching makes for a feather-light cardigan you're sure to love. |
| | | |
| --- | --- | --- |
| | | |
| Galicia Ombré Hooded Sweater | Irina Boat-Neck Sweater | Yuko Cardigan |
| Adding some much needed color to your closet, this ombré layer is a lovely transitional piece for the season. | With a breezy boat neck and an irresistibly soft finish, this light-as-air layer is a comfy closet staple: Tuck it into a flouncy mini skirt for an oh-so-feminine look, or style it with high-rise shorts for an ensemble you'll love as the weather warms. | Inspired by classic loungewear, this easy-to-style cardigan brings cozy warmth and elegance to any look. |
| | | |
| --- | --- | --- |
| | | |
| Ollie Tie-Dye Sweater Tee | Antonina Fringed Cardigan | Alondra Crochet Cardigan |
| With a comfy knit finish, this tie-dyed layer refreshes any wardrobe with a hint of playfulness. | This light-as-air layer infuses everyday ensembles with plenty of elegance and poise - while its fringed trim lends a whimsically textured twist. | This crochet cardigan brings a dash of sophistication to any outfit - from graphic tees and jeans, to cozy knit tanks and midi skirts. |
| | | |
| --- | --- | --- |
| | | |
| Petunia Ruffled Pointelle Cardigan | Rochelle Cable-Knit Duster Cardigan | Elisha Striped Sweater |
| This cardigan's dainty ruffles and pointelle finish infuse any ensemble with sweetness and charm - from easygoing graphic tees and jeans, to knit camis and flowy bias skirts. | Accented with cable-knit sleeves, this cozy cardigan is a perfect layer for in-between seasons. | For a look of effortless polish, pair this eye-catching sweater with your favorite jeans and ankle boots. |
| | | |
| --- | --- | --- |
| | | |
| Martina Sweater Tank | Kiki V-Neck Sweater Tank | Lumi Tie-Dye Sweatshirt |
| This sweater tank's thoughtfully stitched details make it a charming piece to pair with blazers, bias skirts, and your favorite skinny jeans. | For the perfect transitional piece, look no further than the sweater tank - this sleeveless knit partners well with everything in your closet, from weekend denim to polished pencil skirts. | With a dreamy, tie-dyed finish, this sweatshirt is a perfect pick for movie marathons and more. |
| | | |
| --- | --- | --- |
| | | |
| Siobhan Sweater Tank | Maxine Mock Neck Sweater Tank | Tulip Cropped Cardigan |
| This wear-anywhere sweater tank adds a pop of texture to any outfit. | For the perfect transitional piece, look no further than the classic sweater tank - this sleeveless knit partners well with everything in your closet, from weekend denim to polished pencil skirts. | Whether paired with a silky cami and high-rise jeans or layered over your favorite dress, this sweetly textured cardigan brings comfort and poise to your wardrobe. |
| | | |
| --- | --- | --- |
| | | |
| Leslie Poncho Cardigan | Blake Cowl-Neck Sweater | Saoirse Cardigan |
| Here, roomy sleeves and an oh-so-soft finish impart an air of dreamy sophistication. | Cozy and sweet, this cowl-neck sweater is an effortless complement to comfy leggings, polished denim, and utility joggers alike. | Featuring a textured floral motif, this cardigan calls to mind the first crisp days of spring - inviting charm and color to the colder months. |
| | | |
| --- | --- | --- |
| | | |
| Lorna Fuzzy Cropped Sweater Tank | Patrice Geometric Cardigan | Alani Cashmere Mock Neck Sweater |
| Offered in dreamy, delicate hues, this so-soft sweater tank makes a cozy addition to your weekend wardrobe - style it with its matching pants for an irresistibly sweet ensemble. | Whether bundling up by the fire or venturing outside for a brisk walk in the snow, this oh-so-cozy cardigan will keep you snug all season long. | Nothing says luxury like a sumptuous cashmere pullover - here, a mock neck lends the style an air of au courant polish. Best of all? We're giving you a pick of the season's dreamiest hues, ensuring you'll find the perfect look for just about any occasion. |
| | | |
| --- | --- | --- |
| | | |
| Rooney Cocoon Cardigan | Ambrose Knit Wrap | Jamey Houndstooth Cardigan |
| Soft and slouchy, this cocoon cardigan envelops you in cosy comfort - while that vivid hue is set to bring a little brightness to even the dullest of winter days. Sounds good, doesn't it? | Whether cozying up at home or gathering a winter bonfire, this beautifully textured wrap is guaranteed to keep you warm in style. | First worn by Scottish shepherds in the 1800s, the houndstooth pattern has remained a favorite for its striking graphic nature. Appearing here on a cozy cardigan, the design is best balanced with neutrals and sleek shoes. |
| | | |
| --- | --- | --- |
| | | |
| Selene Cardigan | Kimmie Ombré Duster Cardigan | Marseille Leopard Cardigan |
| Pair this slouchy cardigan with tailored trousers or leggings for relaxed, yet sophisticated style. | For those with a soft spot for all things bright and bold, this cheery layer is sure to invite a smile. | This cozy layer blends striking leopard spots with a medley of contrast motifs, lending sophistication and flair to your everyday looks. |
| | | |
| --- | --- | --- |
| | | |
| Rainbow Tie-Dye Cardigan | Judy Turtleneck Pullover | Dessa Sweater-Knit Hoodie |
| This extra-cozy layer proves that rainbow shades are always a bright idea, lending whimsy and enchantment to all your cool-weather looks. | Sophisticated and surprisingly versatile, the turtleneck is an effortless way to upgrade your weekday and weekend looks. | This season we're fall-ing for the coziest of cool-weather layers - and this ultra-soft sweater is no exception. |
Go to:

Add French-Luxury to your favorites