Contemporary Dressing from Casual to Glam
Contemporary dressing from casual tees to body conscious after-hours glamour with an independent spirit and French sense of style. Go to: Bhanuni by Jyoti, Kinga Csilla, Michael Stars, Sweaters, Saturday/Sunday
Payal Jain
After studying fashion at San Francisco's FIDM, Payal Jain returned home to Delhi to launch her eponymous label - an eye-catching collection she describes as 'a Western body with an Indian soul.' For nearly three decades, Payal has meticulously crafted her pieces with the belief that each dress, tunic, or jumpsuit will serve as an extension of the wearer's soul - and using eclectic prints, saturated colors, and immaculate details that celebrate beauty and individuality.
| | |
| --- | --- |
| | |
| Massima Pleated Maxi Dress | Cirque Embroidered Maxi Dress |
| This romantic floral maxi dress is finished with a playfully pintucked bodice - pair it with sandals and a tote for an ensemble that suits any warm-weather occasion. | With its electrifying color palette and stunningly embroidered bodice, this maxi dress is sure to captivate everyone you chance to meet. |
| | |
| --- | --- |
| | |
| Citron Embroidered Maxi Dress | Anastasia Maxi Dress |
| With its sweeping silhouette and vibrant floral motif, this elegant maxi dress was designed to make a statement. | Pairing a classic silhouette with trendy contrast prints, this dress ensures you'll stand out from the crowd. |
With the desire to create beautiful garments that are mindful of both the maker and the environment, Laura Liles launched Kinga Csilla - a 'kind-hearted clothing line for the mavericks and the lovers.' The Australian brand works closely with artisans in India to collect beautifully handcrafted textiles, which are then cut into romantic silhouettes and artfully embellished - ensuring a carefree but glamorous finish.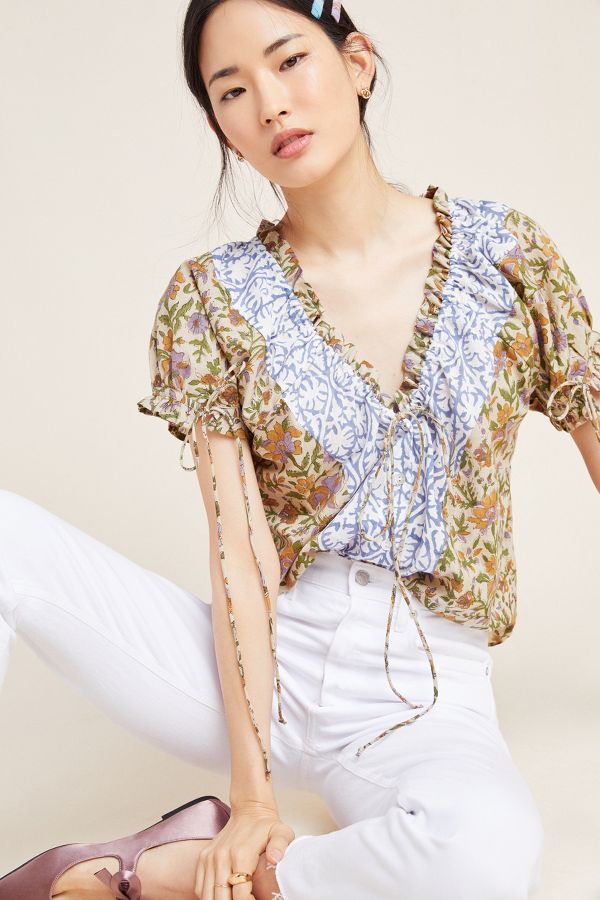 Richelle Ruffled Peasant Blouse
Handcrafted with care, this peasant blouse's block-print design varies ever-so-slightly from piece to piece, ensuring your look is as charming and distinct as they come.
Michael Stars began with one goal in mind: to create the perfect tee. Over the years, the brand has evolved into an inimitable collection of perfectly constructed basics, offering an elevated assortment of effortless, contemporary silhouettes made with sustainable materials. Inspired by the SoCal lifestyle, Michael Stars is synonymous with flattering, wearable essentials for the modern woman
Saturday/Sunday is wholly devoted to the cozy comfort of the weekend. From slouchy French terry hoodies to slim leggings, this loungewear line focuses on ease-of-wear; silhouettes are simple and fabrics are washed (and washed again) to achieve a perfectly worn, loved-forever feel.
| | | |
| --- | --- | --- |
| | | |
| Mona Wide-Leg Pants | Billie Ribbed Cupro Jumpsuit | Ruthie Leggings |
| Our new favorite, these wide-leg pants were made for dawn-to-dusk dressing | Cupro is the best of both worlds: It has the breathability of cotton with a soft, silk-like feel. Draping elegantly, the material is also washable and resistant to wrinkles - making it the easiest packing essential and an unfailing travel companion. | Made from spandex and breathable cotton, these leggings are a comfortable throw-on-and-go essential. |
| | | |
| --- | --- | --- |
| | | |
| Cozy Knit Wrap | Maisie Tie-Dyed Dress | Chenille Striped Hoodie |
| Keep cozy on cool nights in this ultra-soft wrap, which outfits beautifully with leggings and your favorite tunic. | Whether you're beachside, barbecuing, or lounging with your family, this mini dress - made from breathable cotton - will leave you snug and smiling for hours. | This hoodie is so comfortable you'll want to wear it on repeat. |
| | | |
| --- | --- | --- |
| | | |
| Elise Ribbed Tunic | Mimi Colorblocked Cardigan | Wanda Cardigan |
| This versatile tunic will work overtime in your closet, effortlessly topping everything you already own. | Featuring a wavy colorblocked pattern, this cozy cardigan adds cheerful color to any outfit. | Whether it's matched with a mini skirt or layered over your go-to cami, this buttoned cardigan is a year-round essential. |
| | | |
| --- | --- | --- |
| | | |
| Vera Knit Camo Cardigan | Mary Knit Pullover | Suite Sweater Tee |
| Who knew camo could be so cozy? This oversized knit brings warmth and charm to a classically edgy motif. | Puffed sleeves and a stylish cut-out detail make this pullover an instant classic. | Featuring a delicate eyelash knit, this easy-to-layer sweater tee is the perfect complement to swingy skirts and distressed denim alike. |
| | | |
| --- | --- | --- |
| | | |
| Alexia Knit Tunic | Krissy Plaid Cold-Shoulder Cardigan | Margarita Knit Tunic |
| We love layering this tunic over our favorite denim - it's a pairing of unsurpassed comfort and versatility, and never goes out of style. | Whether tucked into a skirt or layered over your go-to cami, this cold-shouldered cardigan is a must-have for the new season. | We love layering this tunic over our favorite denim - it's a pairing of unsurpassed comfort and versatility, and never goes out of style. |
| | | |
| --- | --- | --- |
| | | |
| Copley Longline Knit Cardigan | Vanna Mock Neck Tunic | Paloma Knit Tunic |
| This soft longline cardigan is the ultimate wear-anywhere piece - layer it over a simple slip dress, or cozy up a go-to camisole-and-denim combo. | We love layering this tunic over our favorite denim - itís a pairing of unsurpassed comfort and versatility, and never goes out of style. | We love layering this knit tunic over our favorite denim - itís a pairing of unsurpassed comfort and versatility, and never goes out of style. |
| | | |
| --- | --- | --- |
| | | |
| Brylie Knit Pullover | Padma Poncho | Lola V-Neck Ribbed Pullover |
| For the perfect transitional piece, look no further than this pullover - this knit partners well with everything in your closet, from weekend denim to polished pencil skirts. | With the softness of your favorite sweater, this breezy poncho is perfect for a cool summer night. | This lightweight layer is a versatile essential - switch out a daytime blazer and add a denim jacket for an easy-cool look. |
| | | |
| --- | --- | --- |
| | | |
| Krissy Open-Shoulder Cardigan | Cindy Striped Pullover | Tami Sleeveless Knit Tunic |
| Whether tucked into a skirt or layered over your go-to cami, this cardigan is a must-have for the new season. | Whether paired with relaxed denim or a preppy skirt and sandals, this striped knit elevates any outfit with ease. | We love layering this tunic top over our favorite knit leggings - it's a pairing of unsurpassed comfort and versatility, and never goes out of style. |
| | | |
| --- | --- | --- |
| | | |
| Pommed Sweater Top | Maya Knit Halter Tank | Gemma Ribbed Tank |
| With an array of cheerful poms and a trendy puff-sleeve silhouette, this wear-with-anything sweater ensures you greet the work week in style. | 87% viscose, 9% linen, 3% nylon, 1% spandex | We love layering this tunic top over our favorite knit leggings - it's a pairing of unsurpassed comfort and versatility, and never goes out of style. |
| | | |
| --- | --- | --- |
| | | |
| Pocket Tunic | Brycin Knit Top | Tessa Woven Hoodie |
| We love layering this tunic top over our favorite knit leggings - it's a pairing of unsurpassed comfort and versatility, and never goes out of style | When it comes to layering, the mock neck is a cut above the rest - its just-right height allows it to peek out from underneath chunky knits, cardigans, and jackets. | Cotton, polyester |
| | | |
| --- | --- | --- |
| | | |
| Vieira Pullover | Serenity Knit Top | Sylvester Knit Top |
| Layer in style with this waffle-knit pullover - its recessed square pattern lends a subtle touch of texture to any outfit. | This soft knit top's '70s-inspired bell sleeves remain a favorite for their classic shape - try tucking it into denim shorts or a high-waisted pair of pants for a nod to the nostalgic. | Delicate pointelle stitching makes for a feather-light, feminine top you're sure to love |
Go to:

Add French-Luxury to your favorites