Bedding with French Style Grace
French designer bedding combining sophisticated designs with quality fabric and finishes. Sleep in style. Go directly to: Jane Wilner Designs, Isabella Collection by Kathy Fielder, Anne de Solene Bedding Collections, Catherine Malandrino
| | | |
| --- | --- | --- |
| | | |
| Isabella Collection Livingston Floral Collection | Isabella Collection by Kathy Fielder Adele Bedding | Isabella Collection by Kathy Fielder Carlisle Bedding |
| Polyester chenille duvet cover and shams. Polyester dust skirt with polyester/cotton decking. Handcrafted. Layered merino wool petals. Feather/down insert. Handcrafted of silk. Front is embellished with rock-like beads. Feather/down fill. Handcrafted leather pillow with stud border. | Duvet cover, pillow and shams with leafy scroll pattern. Cotton/rayon front; polyester back. Sham and pillow with ogee pattern. Ruched silk sham. Cotton/rayon dust skirt. Polyester/cotton decking. Pyar & Co. Khanana Pillow handcrafted of silk. Front is embellished with rock-like beads. | Made of polyester/viscose/linen and polyester. Decorative pillow handcrafted of silk. Front is covered with a combination of pyramid studs and rectangular tiles. Bed Tuft made of polyester/viscose/linen and polyester. Detailed with ruched insets, cording, and tassel fringe. |
| | |
| --- | --- |
| | |
| Isabella Collection by Kathy Fielder Aiden Bedding | Isabella Collection by Kathy Fielder Ava Bedding |
| Aiden Duvet Cover and shams made of polyester/rayon. | Ava damask bedding and fringed sham with companion diamond pattern are made of polyester/cotton. Ardyn sheet set includes flat and fitted sheets and two pillowcases. Made of 400-thread-count Egyptian-cotton sateen with embroidery on flat sheet and pillowcases. Machine wash. Made in Italy. Diamond-quilted Wyatt coverlet is made of lustrous cotton sateen. Machine wash. Oblong sequined Pompano pillow and square hand-beaded Palladium pillow are made of silk |
| | | |
| --- | --- | --- |
| | | |
| Isabella Collection Kendra Bedding | Isabella Collection by Kathy Fielder Charlotte Bedding | Isabella Collection by Kathy Fielder Lily Bedding |
| Kendra bedding is a chenille-textured damask pattern in blue and beige. Damask fabric is woven in Europe of polyester/viscose/cotton/acrylic. Oversized bed scarf and European sham are backed with cotton/polyester. 18"Sq. damask pillow reverses to a lattice pattern. | Scroll-patterned bedding is made of viscose/linen and polyester. Solid-color European sham and dust skirt are made of polyester | Vividly colored Lily bedding. Made of polyester and rayon. Padded bed scarf comes in queen and king sizes; matching shams in standard, king, and European sizes. |
| | | |
| --- | --- | --- |
| | | |
| Isabella Collection by Kathy Fielder Hamilton Bedding | Isabella Collection by Kathy Fielder Catania Bedding | Isabella Collection by Kathy Fielder Sofia Bedding |
| Luminous patterns in deep graphite tones bring a new level of sophistication to the bedroom | Cream velvet with a lattice texture and accessories with a sheer overlay embroidered in latte comprise the Catania bedding collection. Duvet cover is finished with cording. Dust skirt has a 20" drop; brush fringe frames the Catania European sham, throw, and accent pillow. Ruched European sham, pillow with center tassel, and flower/lattice pillow are silk. | Sofia bedding is a mix of golden scrollwork/damask polyester, embroidered sheer polyester accents, and a touch of animal (rayon/polyester/cotton). Fancy trims include tassels and fringe. |
| | | |
| --- | --- | --- |
| | | |
| Jane Wilner Designs Aristocrat Leaf Bedding | Jane Wilner Designs Suki Collection | Jane Wilner Designs Phoebe Tile Collection |
| This textural bedding collection mixes a leaf pattern with raised velvet damask. Leaf bedding is made of polyester; damask bedding is viscose/cotton. Polyester dust skirt in solid taupe | Linen/viscose duvet cover. Textured cotton coverlet. Subtle metallic accents. Linen/viscose sham. Sham with birds. Gray polyester sham. Gray polyester neckroll sham. Textured cotton sham. Subtle metallic accents. Gray polyester dust skirt. Platform style, with kick pleats. | Tile-pattern duvet cover and shams. Linen/viscose. Embroider Circle King Sham. Neckroll pillow sham with embroidered circles. Striped cotton sham, bed skirt. |
Jane Wilner Designs Eliza Bedding
Embroidered Eliza bedding, finished with fringe, is made of polyester, linen, and viscose. Gathered, platform-style dust skirt has split corners. Accent pillow has a feather/down fill. Big Diamond coverlet and shams are made of silk.
Contemporary bedding collections from French fashion designer Catherine Malandrino.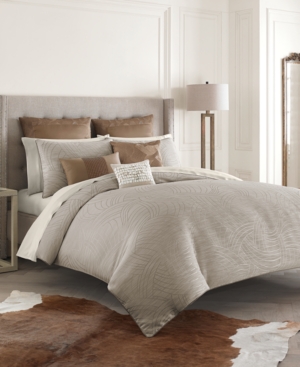 Catherine Malandrino Locks Bedding
Crafted with swirling geometric jacquards and a calming tan tone, these Locks duvet covers from Catherine Malandrino finish any room with soothing contemporary style and comfort.
| | |
| --- | --- |
| | |
| Anne de Solene Tropical Bedding Collection | Anne de Solene Lady Rose Collection |
| Bring the breezy attitude of an island getaway to your bedroom decor with the Tropical Collection from Anne de Solene. Featuring a lush duvet in a chic mix of palm frond and geometric wicker-inspired prints coordinated with pillow shams in a matching wicker print plus sheets and pillowcases with a leafy green embroidered motif, the overall look is fresh and sunny. | Bold tea rose blooms are artfully printed across the duvet cover, shams and flat sheet of this feminine bedding collection by Anne de Solene, rendered in crisp 200-thread count cotton percale. The reverse geometric print is repeated on the fitted sheet and pillowcases, finished with charming gold cord trim. |
| | |
| --- | --- |
| | |
| Anne de Solene Vexin Collection | Anne de Solene Pivoine Collection |
| A classic and elegant bedding collection by Anne de Solene, in 200-thread count cotton percale with a simple hemstitch border. | A bright, lively watercolor floral adorns the duvet cover and printed shams in this luxurious bedding collection by Anne de Solene. The reverse features a chic, contrasting chevron print that also trims the border of coordinating shams and sheets |
| | |
| --- | --- |
| | |
| Anne de Solene Opera Collection | Anne de Solene Numero 3 Collection |
| The Opera bedding collection by Anne de Solène in soft combed cotton features a frosty color palette in a play on texture and shape with a geometric pattern on the duvet, shams and sheets. | A classically feminine bedding collection by Anne de Solene featuring delicate floral embroidery and eyelet detail. Shams and flat sheet feature scallop hem detail |
| | |
| --- | --- |
| | |
| Anne de Solene Plume Collection | Anne de Solene Ikat Collection |
| An airy feather print in earthy taupe floats across the duvet, decorative shams and sheets of this luxurious, 200-thread count cotton percale bedding collection by Anne de Solene. The reverse features a contrasting geometric chain print. Standard and king shams boast elegant feather embroidery. | Imbued with bohemian character, Anne de Solene's Ikat bedding collection features a free-spirited print brought to life with sunshine yellow accents. |
| | |
| --- | --- |
| | |
| Anne de Solene Elegance Collection | Anne de Solene Delices Collection |
| An understated take on luxurious bedding, Anne de Solene's collection of monochrome sheets, duvets and pillowcases features accent trims with delicate texture. | A painterly floral print sets the tone for inspired decor. The Delices Collection from Anne de Solene features French-made duvets and an assortment of decorative shams with a luxurious cotton feel. |
| | |
| --- | --- |
| | |
| Anne de Solene Atoll Collection | Anne de Solene Flora Collection |
| Crafted from long-staple combed cotton, the Atoll Collection from Anne de Solene features duvets, sheets and shams with luxurious thread counts and colorful border stitching. | The Flora Collection from Anne de Solene infuses the bedroom with understated French style. Coordinating duvets, sheets and shams are crafted from luxurious cotton and embellished with blue floral trim. |
| | |
| --- | --- |
| | |
| Anne de Solene Twist Collection | Anne de Solene Sirene Collection |
| The Twist bedding collection by Anne de Solene features a contemporary take on a classic, feminine floral in soft combed cotton. The botanical outline motif is printed across the duvet, shams and sheets in two shades of pink. Shams are trimmed in a coordinating plum hue. | The Sirene bedding collection by Anne de Solène in soft combed cotton features a sea-faring scallop print reminiscent of mermaid scales in a dotted blue sky hue on the duvet, shams and sheets. |
| | |
| --- | --- |
| | |
| Anne de Solene Jardin D'Hiver Collection | Anne de Solene Fragrance Collection |
| Bright pink and blue diaphanous blooms amble across the duvet cover and shams of this luxurious bedding collection by Anne de Solene, crafted in smooth 300-thread count cotton sateen. The watercolor-like botanical print reverses to a shadow leaf motif, matching the collection sheets and feminine boudoir sham. | Inspired by Tachism, a style of abstract painting that originated in 1950's Paris, this crisp cotton percale bedding collection by Anne de Solene features a feminine print of blooming camellias in bold blue and purple hues. Coordinating 250-thread count sheets offer a retro geometric line print in soft lavender. Fanciful ribbon trim along the shams and sheet cuffs add a touch of texture and polish. |
Go to:
Add French-Luxury to your favorites