Modern Dresses for Day and Evening
Dresses for the modern woman with a French sense of style. Body Conscious cocktail dresses and day dresses that impress. Skirts that you can dress up or down. Go to: Sachin & Babi, Exquise, Dhruv Kapoor, Jenny Yoo, Special Collection Dresses
| | | |
| --- | --- | --- |
| | | |
| Sachin & Babi Kalena Embroidered Blouse | Sachin & Babi Celestine Tunic Dress | Sachin & Babi Caralisa Tunic Dress |
| This stunningly embroidered blouse features a lively floral motif, ensuring endless style and sophistication - just add go-to denim shorts and sandals. | At once nostalgic and fashion-forward, this vintage-inspired silhouette elevates every outfit with its signature full-to-fitted sleeves. | Whether styled with wedges or crisp white sneakers, this tunic's puffed sleeves and breezy fit make it a striking, boho-chic option for everyday outfitting. |
| | | |
| --- | --- | --- |
| | | |
| Beckett Satin Maxi Dress | Cali Dress | Beckett Satin Maxi Dress |
| This soft dress features a blouson top and slender skirt for an elegant look that never goes out of style. | An elegantly draped cowl neckline completes this silky slip dress with a modern midi silhouette. | This soft dress features a blouson top and slender skirt for an elegant look that never goes out of style. |
Founded in 2008, Exquise has gained international acclaim for its bold color palettes, innovative fits, and emphasis on quality craftsmanship. From formalwear and trousers to shimmery blouses and cozy knits, the label delivers time-tested pieces for the urbane, free-thinking woman of today.
| | | |
| --- | --- | --- |
| | | |
| Meryl Midi Dress | Blaine Eyelet Maxi Dress | Phoebe Flounced Maxi Dress |
| Dramatic balloon sleeves and a sweet, spring-ready hue infuse this midi with endless sophistication. | In a fabulously spring-ready hue, this dress brings wonder and whimsy to your day. | A flouncy hem and a bold, spring-ready hue infuse this maxi with unsurpassed polish and poise - making it a fabulous match for sandals or crisp white sneakers. |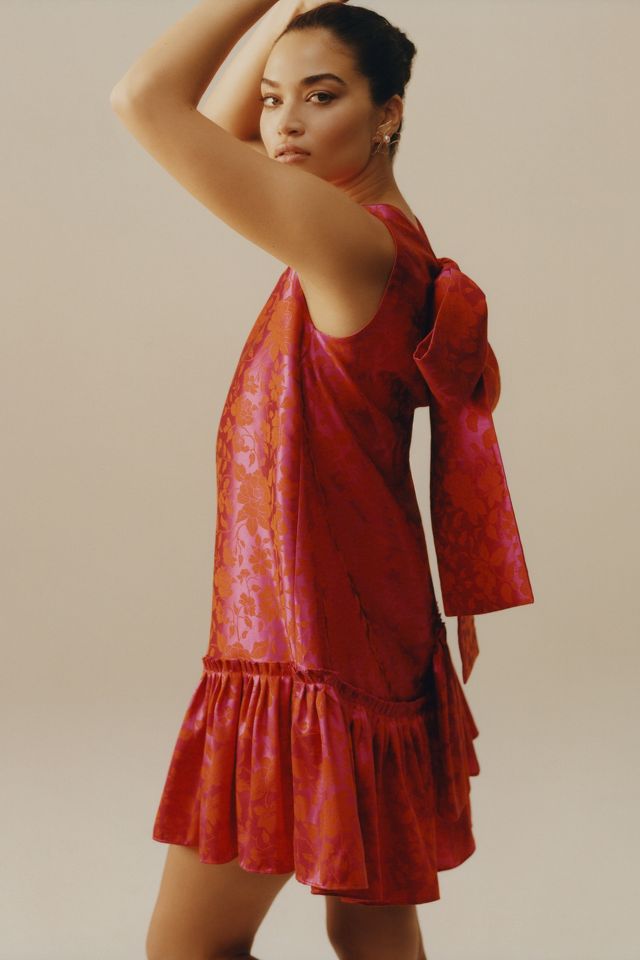 Segovia Jacquard Mini Dress
The embodiment of sartorial sophistication, this jacquard mini dress features a flouncy hem for plenty of feminine flair.
Founded in 2013, Dhruv Kapoor's eponymous label weaves empowerment, revolution, and transformation into every piece by juxtaposing design and attention to detail.
| | | |
| --- | --- | --- |
| | | |
| Mariko Buttondown | Floral Beaded Buttondown | Calysta Mini Dress |
| Cotton | Intricately beaded in a colorful floral motif, this buttondown lends plenty of dazzle and flair to your favorite pair of jeans. | Instantly elevate your springtime wardrobe with this striking mini dress, where an expressive motif imbues plenty of feminine sophistication. |
| | | |
| --- | --- | --- |
| | | |
| Jenny Yoo Andi Velvet Wrap Dress | Jenny Yoo Jamie Dress | Jenny Yoo Idris Wrap Dress |
| Simply sophisticated, this lush velvet wrap dress has a chic V-neckline and airy skirt with a side slit. | Soft and voluminous off-the-shoulder sleeves add a touch of romance to this airy maxi dress, finished with a flowy skirt and side slit. | A soft wrap silhouette, long sleeves, and a V-neckline make this chiffon maxi a perfect pick for every maid. |
| | | |
| --- | --- | --- |
| | | |
| Jenny Yoo Jamie Dress | Jenny Yoo Issa Velvet Dress | Jenny Yoo Issa Velvet Dress |
| Soft and voluminous off-the-shoulder sleeves add a touch of romance to this airy maxi dress, finished with a flowy skirt and side slit. | A romantic off-the-shoulder neckline is the finishing flourish for this plush velvet maxi. | A romantic off-the-shoulder neckline is the finishing flourish for this plush velvet maxi. |
| | | |
| --- | --- | --- |
| | | |
| Jenny Yoo Logan Velvet Dress | Jenny Yoo Bentley Velvet Dress | Jenny Yoo Ryland Velvet Dress |
| Crafted from ultra-soft and stretchy velvet, this stunning dress was made for cold-weather weddings. The deep-v neckline features a mesh panel for subtle coverage, while the plunging back lets you bare some skin. | Made from plush velvet for a luxurious texture, this sleek midi dress is finished with slender straps and a subtly draped cowl neckline. | A plunging open back adds a modern edge to this opulent velvet dress, finished with long sleeves and a timeless v-neckline. An illusion panel completes the bodice, and the back can be worn with or without a snap-on strap. |
| | | |
| --- | --- | --- |
| | | |
| Jenny Yoo Ryland Velvet Dress | Jenny Yoo Ryland Velvet Dress | Jenny Yoo Ryland Velvet Dress |
| A plunging open back adds a modern edge to this opulent velvet dress, finished with long sleeves and a timeless v-neckline. An illusion panel completes the bodice, and the back can be worn with or without a snap-on strap. | A plunging open back adds a modern edge to this opulent velvet dress, finished with long sleeves and a timeless v-neckline. An illusion panel completes the bodice, and the back can be worn with or without a snap-on strap. | A plunging open back adds a modern edge to this opulent velvet dress, finished with long sleeves and a timeless v-neckline. An illusion panel completes the bodice, and the back can be worn with or without a snap-on strap. |
| | | |
| --- | --- | --- |
| | | |
| Jenny Yoo Bentley Velvet Dress | Jenny Yoo Bentley Velvet Dress | Jenny Yoo Lara Dress |
| Made from plush velvet for a luxurious texture, this sleek midi dress is finished with slender straps and a subtly draped cowl neckline. | Made from plush velvet for a luxurious texture, this sleek midi dress is finished with slender straps and a subtly draped cowl neckline. | A soft cowl detail hugs the back of this midi dress for an unexpected touch. The boatneck and twirl-worthy skirt are perfect for going from rehearsal to reception! |
| | | |
| --- | --- | --- |
| | | |
| Jenny Yoo Bentley Velvet Dress | Jenny Yoo Ellis Velvet Dress | Jenny Yoo Ellis Velvet Dress |
| Made from plush velvet for a luxurious texture, this sleek midi dress is finished with slender straps and a subtly draped cowl neckline. | Flutter sleeves and a v-neckline top off this fitted, floor-skimming dress in luxurious velvet. An open back topped with a slender tie makes a dramatic finishing touch. | Flutter sleeves and a v-neckline top off this fitted, floor-skimming dress in luxurious velvet. An open back topped with a slender tie makes a dramatic finishing touch. |
| | | |
| --- | --- | --- |
| | | |
| Jenny Yoo Ellis Velvet Dress | Jenny Yoo Logan Velvet Dress | Jenny Yoo Ellis Velvet Dress |
| Flutter sleeves and a v-neckline top off this fitted, floor-skimming dress in luxurious velvet. An open back topped with a slender tie makes a dramatic finishing touch. | Crafted from ultra-soft and stretchy velvet, this stunning dress was made for cold-weather weddings. The deep-v neckline features a mesh panel for subtle coverage, while the plunging back lets you bare some skin. | Flutter sleeves and a v-neckline top off this fitted, floor-skimming dress in luxurious velvet. An open back topped with a slender tie makes a dramatic finishing touch. |
| | | |
| --- | --- | --- |
| | | |
| Jenny Yoo Bentley Velvet Dress | Jenny Yoo Bentley Velvet Dress | Jenny Yoo Logan Velvet Dress |
| Made from plush velvet for a luxurious texture, this sleek midi dress is finished with slender straps and a subtly draped cowl neckline. | Made from plush velvet for a luxurious texture, this sleek midi dress is finished with slender straps and a subtly draped cowl neckline. | Crafted from ultra-soft and stretchy velvet, this stunning dress was made for cold-weather weddings. The deep-v neckline features a mesh panel for subtle coverage, while the plunging back lets you bare some skin. |
| | | |
| --- | --- | --- |
| | | |
| Amsale Finnley Satin Dress | Pryce Off-the-Shoulder Column Dress | Amsale Connie Midi Dress |
| Bias-cut satin shapes the flowing silhouette of this modern midi slip dress, finished with an asymmetric neckline and strappy back detail. | Silky and off-the-shoulder, this column gown evokes elegance and simplicity while offering easy movement. | A sleek slip silhouette, side slit, and subtly draped neckline add sultry detail to this lacy midi dress. |
| | | |
| --- | --- | --- |
| | | |
| Aslin Dress | Hayley Paige Shirley Romper | Ellesmere Dress |
| A slinky silhouette and plunging open back bring ample glamour to this bridal maxi dress. Allover embroidery is dusted with sequin details for a hint of sparkle. | Short and sweet, this floral lace romper makes a playful look for your bachelorette party or afterparty. | Designed to dazzle, this maxi dress features geometric detailing made from a mix of sequins and beads. A V-neckline and back pair with sheer sleeves to complete the look. |
| | | |
| --- | --- | --- |
| | | |
| Fairbanks Satin Dress | Fairbanks Satin Dress | Montreal Dress |
| For this silky showstopper, it's all in the details: a beautifully draped wrap bodice, high-low hemline, and ruffles for a touch of whimsy. | For this silky showstopper, it's all in the details: a beautifully draped wrap bodice, high-low hemline, and ruffles for a touch of whimsy. | Channel your inner Meghan Markle with this sleek and sophisticated crepe dress featuring a high-neck and deep slit. |
| | | |
| --- | --- | --- |
| | | |
| Leilani Dress | Fidelia Dress | Fidelia Dress |
| Elegantly fitted, this understated midi is perfect for your modern bridal moments. | Deco-inspired beading adds delicate shimmer to this flowy dress with a gracefully draped bodice and floor-length skirt. | Deco-inspired beading adds delicate shimmer to this flowy dress with a gracefully draped bodice and floor-length skirt. |
| | | |
| --- | --- | --- |
| | | |
| Dresden Dress | Adena Dress | Fidelia Dress |
| Shine bright in this allover sequin midi with cap sleeves and a dramatic side slit. | A sleek square neckline tops this stretchy, body-hugging number. Complete with a deep slit, it's sure to turn heads. | Deco-inspired beading adds delicate shimmer to this flowy dress with a gracefully draped bodice and floor-length skirt. |
| | | |
| --- | --- | --- |
| | | |
| Montreal Dress | Odette Dress | Ashland Dress |
| Channel your inner Meghan Markle with this sleek and sophisticated crepe dress featuring a high-neck and deep slit. | This sequined boatneck creation blends glamour with a bit of vintage flair. Its lace overlay is studded with hundreds of matte sequins arranged in a stunning blooming pattern while the slight cap sleeve offers the perfect amount of coverage. | A one-shoulder neckline with a keyhole detail brings a modern edge to this sleek maxi dress. Gathered at the keyhole, the straps divide across the back for a chic look from every angle. |
| | | |
| --- | --- | --- |
| | | |
| Sanders Dress | Brixen Dress | Fidelia Dress |
| A chic v-neckline and cap-sleeves finish this artfully beaded, body-skimming dress. | Made from oh-so-comfy jersey, this maxi dress features gracefully gathered details at the waist and a chic one-shoulder silhouette. | Deco-inspired beading adds delicate shimmer to this flowy dress with a gracefully draped bodice and floor-length skirt. |
| | | |
| --- | --- | --- |
| | | |
| Dona Lace Maxi Dress | Dona Lace Maxi Dress | Vizelle Midi Dress |
| Allover lace lends gorgeous texture to this maxi dress with a classic V-neckline and flowing silhouette. | Allover lace lends gorgeous texture to this maxi dress with a classic V-neckline and flowing silhouette. | Vibrant floral embroidery bedecks this timeless midi silhouette, finished with sheer details at the neckline. |
| | | |
| --- | --- | --- |
| | | |
| Mestiza Alfama Midi Dress | Amsale Connie Midi Dress | Nikka Dress |
| This crinkle organza midi dress is completed by a bold flounce hemline. | A sleek slip silhouette, side slit, and subtly draped neckline add sultry detail to this lacy midi dress. | A subtle metallic sheen makes a glamorous finishing touch for this ankle-length dress with long, sheer sleeves and a timeless silhouette. |
| | |
| --- | --- |
| | |
| Tadashi Shoji Odette Dress | Olmstead Dress |
| This sequined boatneck creation blends glamour with a bit of vintage flair. Its lace overlay is studded with hundreds of matte sequins arranged in a stunning blooming pattern, while the slight cap sleeve offers the perfect amount of coverage. | Finished with a subtle sheen, this boatneck midi features subtle draping at the neckline, a chic tie waist, and a swingy skirt. |
Go to: