French Style Garden Accents
Add French style garden accents to transform your outdoor living space. Impressive outdoor rugs pull your outdoor areas together and make them more welcoming. Add throw pillows for instant color. Go to: Outdoor Rugs, Door Mats, Indoor/Outdoor Curtains Outdoor Pillows and Throws, Beach Towels
| | | |
| --- | --- | --- |
| | | |
| Silver Leaf Outdoor Rug, 3' x 5' | The Memphis Outdoor Rug, 3' x 5' | Tennessee Spring Outdoor Rug, 3' x 5' |
| All-weather rug is made of durable polypropylene. Features a thinner profile to avoid trip hazards and interference with door sweeps and low thresholds. Antibacterial, UV stabilized, and fade resistant. Does not shed, shred, mold, or mildew. Precision-inlaid print. Personalization available. | All-weather rug is made of durable polypropylene. Features a thinner profile to avoid trip hazards and interference with door sweeps and low thresholds. Antibacterial, UV stabilized, and fade resistant. Does not shed, shred, mold, or mildew. Precision-inlaid print. Personalization available. | All-weather rug is made of durable polypropylene. Features a thinner profile to avoid trip hazards and interference with door sweeps and low thresholds. Antibacterial, UV stabilized, and fade resistant. Does not shed, shred, mold, or mildew. Precision-inlaid print. Personalization available. |
| | | |
| --- | --- | --- |
| | | |
| Custom Regal Horse Mat | The Monarch Outdoor Rug, 3' x 5' | 3 X 5 Natural Custom Baldwin Monogrammed Door Rug |
| They make a wonderful house warming gifts, wedding gifts, Christmas gifts or any gift! But don't forget about yourself. We think this mat will look amazing in front of your door too! | All-weather rug is made of durable polypropylene. Features a thinner profile to avoid trip hazards and interference with door sweeps and low thresholds. Antibacterial, UV stabilized, and fade resistant. Does not shed, shred, mold, or mildew. Precision-inlaid print. Personalization available. | These mats are the most durable, elegant, all-weather personalized door mats available. They make a wonderful house warming gifts, wedding gifts, Christmas gifts or any gift! But don't forget about yourself. We think this mat will look amazing in front of your door too! We call our mats Coco "Not" because unlike ordinary coco mats made out of scratchy coir, ours don't shed or shred, they're antibacterial, don't mold, mildew or hold water, fade resistant and are soft enough to walk on but rough enough to catch the dust and dirt. |
| | | |
| --- | --- | --- |
| | | |
| Feliz Monogrammed Door Mat | Palais Rubber Door Mat | Charlemagne Door Mat |
| Embrace the yuletide spirit. Durable enough to stand up to the elements, this polypropylene entry mat features a festive holly and mistletoe arrangement and an optional single initial monogram. Perfect for adding a holiday touch to your entryway. | We created this stylish Palais Rubber Door Mat to complement the look of your home's wrought iron detailing. The timeless lattice and scroll pattern is made from extremely strong rubber that resists cracking in cold weather or buckling under extreme heat. | An eye-catching floral and bird pattern with intricately shaded yarns and tight loops adorns our Charlemagne Door Mat. It's hand-hooked of durable, weather-resistant polyester and acrylic fibers and designed to greet guests for years to come. |
| | | |
| --- | --- | --- |
| | | |
| Graphic Border Doormat | 3 X 5 Natural Custom Scroll Monogrammed Door Rug | Birch Bristle Doormat |
| Hand-woven from natural coir, this rugged mat removes dirt and absorbs moisture while resisting mildew and offering long-lasting durability. | These mats are the most durable, elegant, all-weather personalized door mats available. They make a wonderful house warming gifts, wedding gifts, Christmas gifts or any gift! But don't forget about yourself. We think this mat will look amazing in front of your door too! We call our mats Coco "Not" because unlike ordinary coco mats made out of scratchy coir, ours don't shed or shred, they're antibacterial, don't mold, mildew or hold water, fade resistant and are soft enough to walk on but rough enough to catch the dust and dirt. | Handmade in Sweden, this practical doormat from Iris Hantverk features boot-cleaning nylon bristles in a frame of natural birch wood. |
| | | |
| --- | --- | --- |
| | | |
| Autumn Leaf Doormat | Hare & There Doormat | Back To Our Roots Doormat |
| Welcome guests into your home with our selection of doormats that feature eye-catching patterns, cheerful greetings, and seasonal motifs. Crafted from natural coconut fiber, each mat provides a durable spot to wipe off debris and moisture from outside, as well as a finishing touch for your entryway. | Welcome guests into your home with our selection of doormats that feature eye-catching patterns, cheerful greetings, and seasonal motifs. Crafted from natural coconut fiber, each mat provides a durable spot to wipe off debris and moisture from outside, as well as a finishing touch for your entryway. | Welcome guests into your home with our selection of doormats that feature eye-catching patterns, cheerful greetings, and seasonal motifs. Crafted from natural coconut fiber, each mat provides a durable spot to wipe off debris and moisture from outside, as well as a finishing touch for your entryway. |
| | | |
| --- | --- | --- |
| | | |
| Fern Fronds Doormat | Vertical Stripe Jute Doormat | Basket Weave Doormat |
| Hand-woven from natural coconut fiber and topped with a pair of lacy fern fronds, this tufted, terrain-exclusive doormat removes dirt and absorbs moisture while resisting mildew and offering long-lasting durability. | Hand-woven and developed especially by terrain, this natural jute doormat is dressed up by two bands of black stripes. | A practical addition to mudrooms, patios, and porches, this woven mat is made from rugged, coir fiber that catches dirt before it enters the house. |
| | |
| --- | --- |
| | |
| Trailing Florals Doormat | Windowpane Jute Doormat |
| Hand-woven from natural coconut fiber and topped with a trailing floral pattern, this tufted, biodegradable terrain-exclusive doormat removes dirt and absorbs moisture while resisting mildew and offering long-lasting durability. | Woven from durable, natural jute, this doormat is dressed up by a windowpane pattern. |
| | | |
| --- | --- | --- |
| | | |
| Sunburst Half-round Coco Door Mat | Joyful Reindeer Monogrammed Door Mat | Water & Dirt Shield™ Fleur-de-Lis Door Mat |
| Our Sunburst Half-round Coco Door Mat traps dirt at the door with rugged coir. Harvested from coconut husks, natural coir fibers are a preferred choice for entry mats and rugs. | With festive holiday colors and a fun design, this all-weather mat is sure to charm yuletide revelers. Hand-hooked and featuring a deer design with your choice of monogrammed initial. | Our hard-working Water & Dirt Shield™ Fleur-de-Lis Door Mat takes on the messy side of every season, absorbing over a gallon of water per square yard. Available in elegant designs, these mats trap water and stop dirt as effectively as ever. The low-profile design allows doors to clear mats and complies with ADA requirements without sacrificing the mat's superior absorbency |
| | | |
| --- | --- | --- |
| | | |
| Irongates Half-round Door Mat | Classic Border Monogrammed Coco Door Mat | Water & Dirt Shield™ Aventura Door Mat |
| Greet guests with our distinctive Irongates Half-round Mat, featuring elegant scrollwork and a nonfading color palette. Handsomely hand-hooked from durable, UV-treated polyester/acrylic that's fade resistant and stands up to the toughest outdoor elements. | Framed in a sophisticated, bold border, our Classic Border Monogrammed Coco Door Mat graces an entryway with your single initial. Constructed of 100% durable coir fibers, this handsome mat is stenciled in fade-resistant dyes for long-lasting luxury. | Collecting water and dirt from the soles of your shoes and pet's paws has never looked so good. Our elegantly designed Water & Dirt Shield™ Aventura Door Mat is constructed of thick, highly absorbent polypropylene fibers and resilient molded rubber, so it will retain its attractive appearance while protecting your home's floors and carpeting from mud, sand, moisture and other exterior debris. The low-profile design allows doors to clear mats and complies with ADA requirements without sacrificing the mat's superior absorbency. |
| | | |
| --- | --- | --- |
| | | |
| Windsor Monogrammed Coco Door Mat | Belle Haven Door Mat | Wingate Festive Monogrammed Door Mat |
| Woven from natural coir fibers, our Windsor Monogrammed Coco Door Mat adds a touch of sophistication to your entryway. Durable coco fibers scrub dirt and debris from shoes and withstand the elements. | Add a classic element to your entryway. This durable, all-season design features a traditional lattice pattern and tufted construction. | Welcome family members and guests alike with this striking Wingate Festive Monogrammed Door Mat. This eye-catching design features an elegant border with intricately shaded yarns and textural tight loops that create great visual appeal. |
Ashworth Indoor/Outdoor Rug
Our superbly woven Ashworth Indoor/Outdoor Area Rug beautifies every outdoor space. The easy-care, flat-weave rug shrugs off nature's worst without sacrificing style. A scrolling leaf design juxtaposed with a crisp hexagonal pattern creates the handsome design.
| | | |
| --- | --- | --- |
| | | |
| Lemieux et Cie Hand-woven Reversible Sakya Indoor/Outdoor Rug | Lanny Reversible Indoor/Outdoor Rug | Olympia Machine Woven Indoor/Outdoor Rug, 5' x 8' |
| This globally inspired rug creates a space of eclectic influence and charm - indoors or out. Best of all? It features a reversible inverted design that can be switched to fit your space. | Bring a warm and serene boho-inspired look to your patio or entryway space with this reversible rug , featuring a striped motif with chevron accents made from durable recycled plastic, perfect for high-traffic areas. Resistant to mildew, mold and UV rays. Tan | This rug features compelling global inspired designs brimming with elegance and grace. The perfect addition for any home, these pieces will add eclectic charm to any room. The meticulously woven construction of these pieces boasts durability and will provide an everlasting staple to your floors. Handcrafted of polyester/polypropylene. |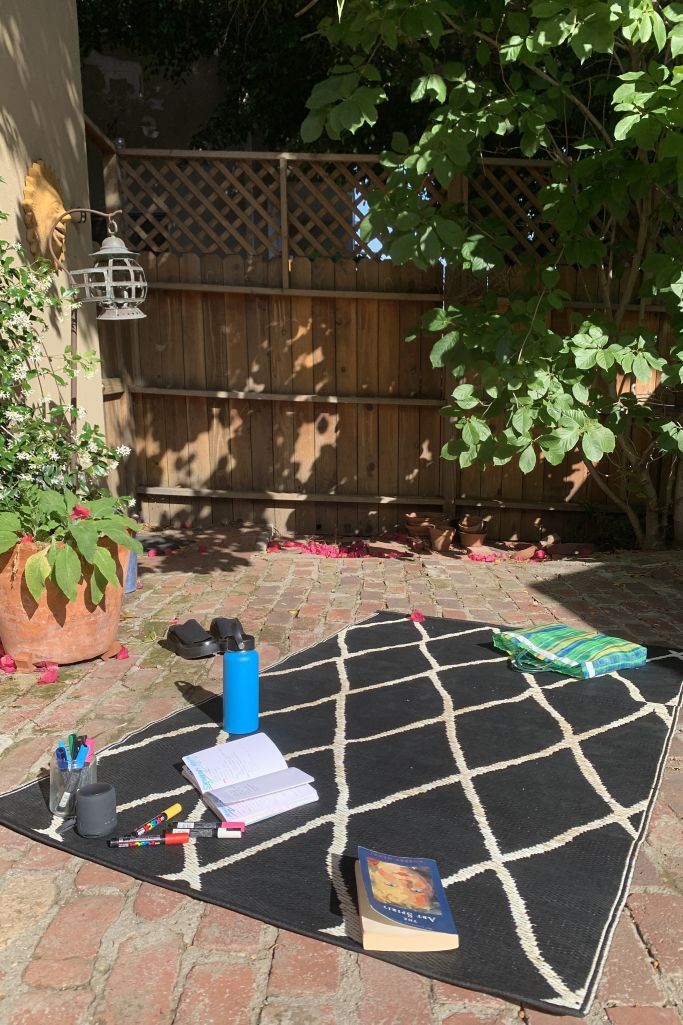 Nena Reversible Indoor/Outdoor Rug
High-contrast indoor/outdoor rug made from recycled plastic, offering a durable build suitable for high-contrast areas of your space and topped with a reversible finish for double the look.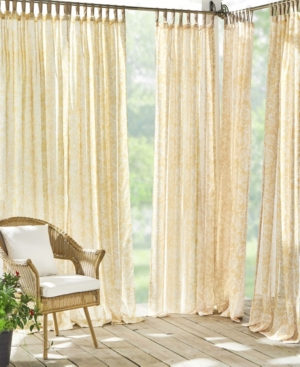 Verena Sheer Floral Indoor/Outdoor Tab Top Curtain Panel
The Verena tab top floral indoor/outdoor sheer features a slub weave texture and a jacobean floral print. Tabs feature jute print to provide a fashionable and natural aesthetic. Perfect for creating a light and airy aesthetic, while adding a touch of fashion to any space.
| | | |
| --- | --- | --- |
| | | |
| Awning Monochrome Floor Pillow | Awning Monochrome Pillow, Colonial Tape Pillow, Colonial Tape Lumbar Pillow | Colonial Tape Boxed Pillow |
| Handcrafted weather-resistant floor pillow in reversible vertical stripe design. Decorative tassel in each corner. Sunbrella® acrylic. UV treated to resist fading and mildew. Zip closure. Quick-drying polyester fill. Non-woven waterproof cover. Mold-resistant. | Handcrafted decorative outdoor pillow. UV treated to resist fading and mildew. | Handcrafted decorative boxed outdoor pillow with border trim on gusset. Solution dyed acrylic cover. Reversible. Zip closure. Quick-drying polyester fill. Non-woven waterproof cover. Mold-resistant. |
| | |
| --- | --- |
| | |
| Sunny Florals Picnic Blanket | Block Striped Beach Towel |
| Invite florals to your picnic with this sweetly printed blanket. Its handy design comes with stakes to secure to the ground so you can dine outdoors with ease - even on the breeziest of days. | Whether you're lounging poolside or sunbathing in the sand, this colorful towel is a summer must-have. |
| | |
| --- | --- |
| | |
| Pool Candy Tube Runner Motorized Pool Tube | Pool Candy Splash Runner Motorized Pool Lounger |
| Pool float is made of PVC. Powerful 66-watt, 360º motor activates at the touch of a button. 3-blade propeller is fully enclosed behind a protective safety grill. Includes an adapter so you can inflate with your hair dryer. Features a high backrest and cup holder. | Pool float is made of PVC. Powerful dual 66-watt motors activate at the touch of a button. Propellers are fully enclosed behind a protective safety grill. Includes a high backrest, lower-back support, and cup holder. Assembles in minutes; no tools required. Redesigned propellers provides a 20% increase in speed. |
Go to: