Selecting the Perfect Wine Glasses
Sparkling full lead crystal wine glasses from France. Fine crystal defines good taste and makes wine taste better. The first wine glass, according to myth, was made by Aphrodite cutting a bubble of sea foam in half as she was emerging from the sea. The art of French glassblowing nearly replicates that clarity and delicacy. Who should know better crystal for serving wine than the French? Go to: Color, Clarity, Feel, Size and Shape, Carefree Catering Wine Glasses, Care, Stemless Wine Glasses
Selecting Wine Glasses, stemware and barware
Historically, colored wine glasses hid cloudy, dull wines which contained sediment, so by tradition, the hock glass is often a jewel tone. Vintners have learned to "fine" their wines. The sight of a deep ruby Pinot Noir, a golden Chardonnay or bubbles rising in Champagne, can make this an important part of the experience. Held in the light, there should be no blue or yellow tinge to clear crystal.
| | | |
| --- | --- | --- |
| | | |
| Baccarat Vega Rhine Wine Glass, Set of 2 | Amadeus Wine Glass | Lustered Wine and Bar Glasses, Sets of 4 |
| Set of 2. Lead crystal. Hand wash. Made in France | Handcrafted wine glass. Made of lead crystal. | Gather by Anthropologie is an exclusive curation of everyday essentials, from our table to yours. Versatile and casual, itís a family-friendly collection suited for breakfast, dinner, and every meal in between. Here, our Lustered Glassware boasts impeccable, thoughtful design, complete with an elevating, iridescent finish. |
Fine crystal should be absolutely clear, no bubbles. French brilliantly clear crystal wine glasses
| | | |
| --- | --- | --- |
| | | |
| Baccarat Degustation Glassware, Set of 4 | Box of Assorted Wine Glasses, Set of 6 | Baccarat JCB Passion Wine Glasses, Set of 2 |
| Bring classic style to your wine tasting or dinner with this striking set, each designed to enhance the subtle flavors and aromas of a particular drink: red wine, white wine, champagne and spirits. | Handcrafted assorted wine glass set of lead crystal. Harcourt Eve: holds 9.8 ounces. Diamant: holds 9.8 ounces. Chateau Baccarat: holds 13.8 ounces. Massena: holds 12.3 ounces. Vega: holds 12 ounces. Mille Nuits: holds 7.5 ounces. Made in France. | Set of two wine glasses. Made of lead crystal. Each holds 27 ounces. Approx. 9.2"T each. France |
| | | |
| --- | --- | --- |
| | | |
| Baccarat "Vega" Stemware | Baccarat Jcb Passion Wine Glasses, Set of 2 | Baccarat "Mille Nuits" Stemware |
| Designed for today's contemporary lifestyle and expression of personal entertaining styles. Simple, easy to integrate and multi-functional, each piece is an exemplary marriage of beauty and practicality that is sure to delight with each use | Set includes: two wine glasses. Designed by visionary vintner Jean-Charles Boisset and created by Baccarat | Full-leaded crystal, hand crafted tall wine glass |
| | | |
| --- | --- | --- |
| | | |
| Lalique 100 Points Tasting Glass, Set of 2 | Lalique Merlot Glass | Lalique 100 Points Stemware Collection |
| Designed in collaboration with international wine critic James Suckling, Lalique's 100 Points Glass is ideal for tasting both red and white wines. Crystal. Made in France | Merles et Raisins motif carved as a medallion in satin-finished crystal. Crystal. Made in France | Lalique's renowned 100 Points collection has expanded from a single universal tasting glass to an entire assortment perfect for a wide variety of beverages and occasions. Designed in collaboration with international wine critic James Suckling, each glass in the collection is carefully finished, sanded and polished for incredible clarity and beauty. |
Stemware should feel balanced in your hand (not top heavy) and stand evenly. The rim should be thin, even and smooth to the touch. A gentle tap produces a bell tone indicating surface strength.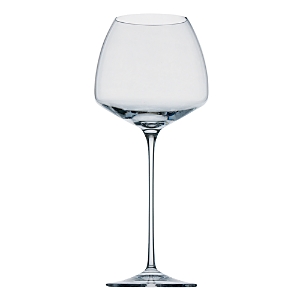 Rosenthal Tac 02 Burgundy Wine Glass
Designed by Walter Gropius, this elegantly versatile stemware collection effortlessly coordinates with a range of dinnerware styles from classic to contemporary. 30 oz. Crystal. Dishwasher safe
In a dishwasher, be sure you know the type of detergent and temperature recommended. If washing by hand, gently dip the glass into warm, soapy water bowl down. Dry carefully. Heat expands and makes them more fragile. Store upright. With care, they will last for generations.
Standard setting includes goblets, 6 ounce white/rosť wines, 8 ounce red wines and champagne flutes, although you will serve only 2-3 oz. of white or 3-5 oz. of red per glass. A taller bowl allows you to enjoy the layers of aroma as the wine evaporates, straighter sides for whites, balloon shape for reds. The mouth should be slightly narrower to gather aroma, but not touch the nose when drinking. Modern table patterns often simplify to the basic shapes shown.
| | |
| --- | --- |
| | |
| Lsa Wine Collection | Lsa White Wine Glass, Set of 4 |
| Bring classic style to cocktail hour with LSA's dramatic wine collection, showcasing curving silhouettes and elongated stem detail. | Bring classic style to cocktail hour with LSA's dramatic wine collection, showcasing curving silhouettes and elongated stem detail. |
Fleur Melamine Wine Glass
Wine glass made of lightweight, shatterproof polycarbonate plastic. Holds approx. 16 oz. Dishwasher safe. France
Go to:
Add French-Luxury to your favorites